Caroline Cashin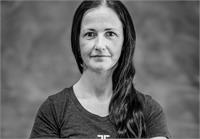 Caroline has been a competitive athlete for over 13 years. She has competed in and won many mountain bike races and off-road duathlons.
As an endurance athlete Caroline understands the importance of strength training as a critical component of any training program.
She believes strength will increase an athlete's performance in all sports.
Certifications: StrongFirst Level 1, Strongfirst Level 2 TRX, Real Rider, IKFF (kettlebell)
Caroline Cashin instructs the following:
An advanced kettlebell class focusing on strength and conditioning. Experience with kettlebells is required.




Our signature Truth class is a full body, high intensity workout that incorporates multi-planar strength movements using TRX, kettlebells, and body weight exercises. We add variety by including rowing machines, medicine balls, jump ropes and other TRUTH specialties. Truth classes work on timed intervals and work capacity, so people of all fitness levels can train in a safe, progressive and inspiring environment!




Holding all the principles of the Strength Class but for women only.