Sinead Fitzgibbon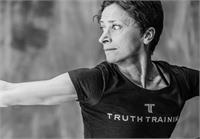 Sinéad has been practicing as an orthopedic and sports physical therapist since 1991, helping her athletes/patients navigate the path between rehabilitation
and return-to-sport.
She is a competitive athlete in multiple sports: swimming, biking multiple disciplines (road, MTB, CX, Tri-), distance running, and more recently open water
rowing. She particularly enjoys using the tools for strength development with athletes of all ages and stages of recovery.
Certifications: Rowing (ucanrow2), Kettlebell IKFF and SFG I, USATF coach, USAC coach/bikefit.
Sinead Fitzgibbon instructs the following:
Truth rowing classes are done on Concept 2 rowers and programming is done by a certified rowing instructor. The entire class on Mondays are on the rower and include intervals, possibly sprints, and longer endurance portions. The Truth row class on Fridays include rowing and off the rower portions using kettlebells and jump ropes. This class is a must for anyone looking to build a strong base of conditioning for their training program.