Natalia Poggi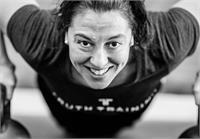 Natalia was born in Buenos Aires, Argentina and has been an athlete her whole life.
Her athletic career led her to a career in the fitness industry.
Moving to America in 2001 she quickly dove in to dance, step, TRX, kettlebell and other components of the functional fitness movement.
Natalia brings 20 years of experience and knowledge to Truth Training's highly qualified group of instructors.
Natalia Poggi instructs the following:
Our signature Truth class is a full body, high intensity workout that incorporates multi-planar strength movements using TRX, kettlebells, and body weight exercises. We add variety by including rowing machines, medicine balls, jump ropes and other TRUTH specialties. Truth classes work on timed intervals and work capacity, so people of all fitness levels can train in a safe, progressive and inspiring environment!