Lisa Farbar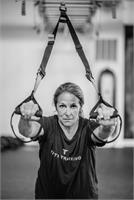 Lisa is a former gymnast and has been a personal trainer for 30 years, working in NYC and the Hamptons.
Lisa is also the Strength and Conditioning Coach at East Hampton High School and designs programs for individual athletes and teams.
Her certifications include TRX, Pilates ACSM and ASFA.
Lisa Farbar instructs the following:
Our signature Truth class is a full body, high intensity workout that incorporates multi-planar strength movements using TRX, kettlebells, and body weight exercises. We add variety by including rowing machines, medicine balls, jump ropes and other TRUTH specialties. Truth classes work on timed intervals and work capacity, so people of all fitness levels can train in a safe, progressive and inspiring environment!