Lisa Farbar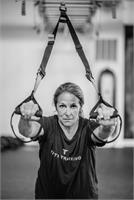 Lisa is a former gymnast and has been a personal trainer for 30 years, working in NYC and the Hamptons.
Lisa is also the Strength and Conditioning Coach at East Hampton High School and designs programs for individual athletes and teams.
Her certifications include TRX, Pilates ACSM and ASFA.
Lisa Farbar instructs the following:
An advanced kettlebell class focusing on strength and conditioning. Experience with kettlebells is required.




Holding all the principles of the Strength Class but for women only.




Our signature Truth class is a full body, high intensity workout that incorporates multi-planar strength movements using TRX, kettlebells, and body weight exercises. We add variety by including rowing machines, medicine balls, jump ropes and other TRUTH specialties. Truth classes work on timed intervals and work capacity, so people of all fitness levels can train in a safe, progressive and inspiring environment!




The BOT (back on track) class is for anyone thinking of taking a Truth class but hasn't made the commitment yet, or for someone who hasn't been to class for awhile and wanted to get back into shape. BOT will start with instruction of the foundational exercises needed for all Truth classes then add the programming you need for progressive increases in strength and conditioning.
Get an introduction or re-introduction to all the different types of Truth Training Classes including kettlebell, rowing, TRX, bosu balls, bodyweight plyo, boxes and jump rope.
A fun and challenging 50 minute class.




A Strength and Conditioning class specifically designed for high school athletes. It uses kettlebells, rowing machines, TRX, box jumps, medicine balls, BOSU balls and jump ropes in a 50 minute class format.