Harvey O' Brien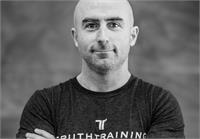 An East Hampton resident involved in physical fitness for over twenty years. He is firm believer in functional fitness and strength training.
Rowing, TRX, box jumps, jump rope and med balls etc are all integral parts of his training routines.
However his primary focus is on kettlebell and barbell strength.
Harvey believes strength fixes everything and fully agrees with Truth Training's motto of 'Never Abandon your Strength'.
In addition he handles back office operations for Truth Training.
Strongfirst SFG1, SFG II and SFL certified.
Harvey O' Brien instructs the following:
Our signature Truth class is a full body, high intensity workout that incorporates multi-planar strength movements using TRX, kettlebells, and body weight exercises. We add variety by including rowing machines, medicine balls, jump ropes and other TRUTH specialties. Truth classes work on timed intervals and work capacity, so people of all fitness levels can train in a safe, progressive and inspiring environment!




Truth Maintenance and Recovery. This class combines rolling and recovery methods with kettlebell mobility and restorative strength moves like crawling and rocking. Reclaim your Original Strength (TM) by resetting what you were born to do: MOVE!!




An advanced kettlebell class focusing on strength and conditioning. Experience with kettlebells is required.




A training program to elevate the heart rate into a desired range. The strength component ensures a positive support role in primary strength and conditioning training programs while stoking the metabolic fire to a degree that stand alone conditioning cannot.
Heart monitors are recommended but not a necessity. We are using MYZONE heart rate monitors to achieve the desired heart rate per workout. These are shown on the flat screen in the gym. You are welcome to bring your own or workout without one.