Ed Cashin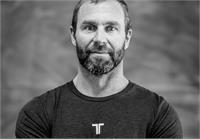 Ed Cashin has enjoyed over 26 years in the health/fitness industry.
He is the co-founder of Exceed Physical Culture and the founder and president of Truth Training.
Ed splits his time programming and coaching classes and private clients and developing strength and conditioning retreats to Costa Rica, Nicaragua,
Puerto Rico, Montauk, and Hamptons.
Certifications:
TRX, TRX group, Strength Matters level 1, Strong first level 1, Strong first level 2
Rowing (ucanrow2) Dynamax
Ed Cashin instructs the following:
Our signature Truth class is a full body, high intensity workout that incorporates multi-planar strength movements using TRX, kettlebells, and body weight exercises. We add variety by including rowing machines, medicine balls, jump ropes and other TRUTH specialties. Truth classes work on timed intervals and work capacity, so people of all fitness levels can train in a safe, progressive and inspiring environment!




An advanced kettlebell class focusing on strength and conditioning. Experience with kettlebells is required.




Boxing, TRX, Cardio and Core




This class is limited to only 12 people to enable a deeper focus on strength principles, exercise selection and programming. For a little extra money this class will feel more like a personal training session than group exercise! Sign up now space is very limited!
Limited edition will meet every Monday in July and August at 8:30am and will be taught by Ed Cashin. The price for 9 these Mondays is $400 and is sold as a package. If you are ill or need to miss a class (or classes) you may transfer it to someone else but there are no re-imbursements for cancellations.