Ed Cashin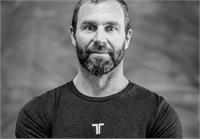 Ed Cashin has enjoyed over 26 years in the health/fitness industry.
He is the co-founder of Exceed Physical Culture and the founder and president of Truth Training.
Ed splits his time programming and coaching classes and private clients and developing strength and conditioning retreats to Costa Rica, Nicaragua,
Puerto Rico, Montauk, and Hamptons.
Certifications:
TRX, TRX group, Strength Matters level 1, Strongfirst SFG I, SFG II and SFL
Rowing (ucanrow2) Dynamax
Ed Cashin instructs the following:
Our signature Truth class is a full body, high intensity workout that incorporates multi-planar strength movements using TRX, kettlebells, and body weight exercises. We add variety by including rowing machines, medicine balls, jump ropes and other TRUTH specialties. Truth classes work on timed intervals and work capacity, so people of all fitness levels can train in a safe, progressive and inspiring environment!




An advanced kettlebell class focusing on strength and conditioning. Experience with kettlebells is required.




Truth Maintenance and Recovery. This class combines rolling and recovery methods with kettlebell mobility and restorative strength moves like crawling and rocking. Reclaim your Original Strength (TM) by resetting what you were born to do: MOVE!!




Boxing, TRX, Cardio and Core