James Kennedy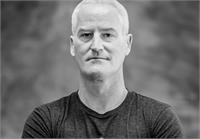 James Kennedy has been in the fitness industry for close to 8 years. He co-founded B-East Studio in East Hampton, New York.
Jim was the lead instructor for Exceed Physical Culture in East Hampton, New York.
He is currently head of development and lead instructor at Truth Training Inc. in East Hampton, New York.
Jim is one of the most influential trainers in the functional fitness industry, his methods and modalities are being used by trainers and studios throughout
Long Island and New York City.
Certifications: TRX, Real Rider, UCanRow2, ASI certified SUP Instructor
James Kennedy instructs the following:
Our signature Truth class is a full body, high intensity workout that incorporates multi-planar strength movements using TRX, kettlebells, and body weight exercises. We add variety by including rowing machines, medicine balls, jump ropes and other TRUTH specialties. Truth classes work on timed intervals and work capacity, so people of all fitness levels can train in a safe, progressive and inspiring environment!




This class concentrates on the conditioning component of fitness. Expect rowing intervals, jump-rope, swings and more with intense intervals that will keep your heart rate elevated while executing perfect form on each modality. You will not press, squat or deadlift (weighted) in this class.